---
Where to Find Online Teaching Jobs from home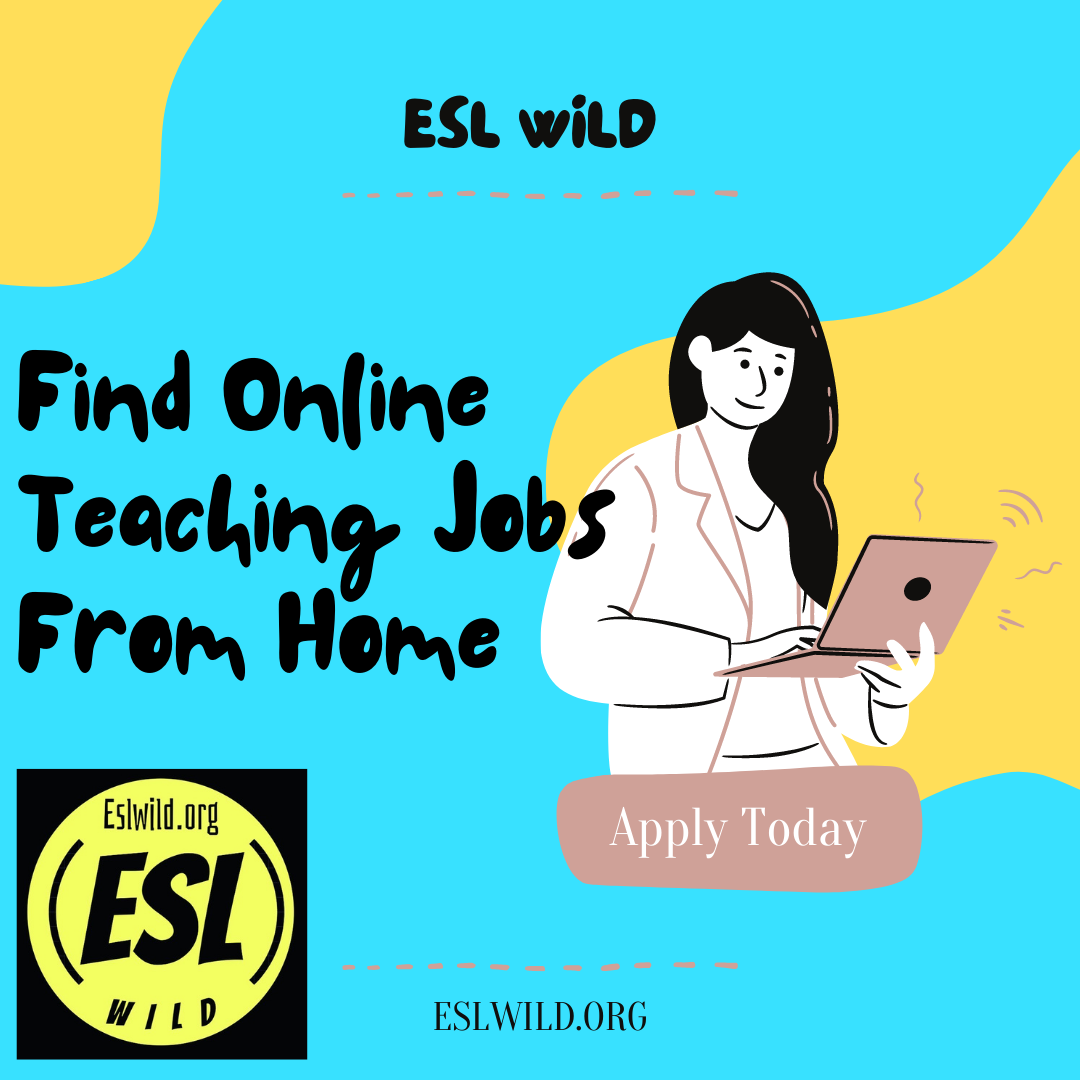 The ultimate question is… Where to find online teaching jobs from home? Hundreds of thousands of teachers are making money from the comfort of their own homes. Teaching English online has never been easier. It seems that as each month passes, new online platforms keep springing up. This is creating more and more opportunities for online teachers. 
When looking for an online ESL job, be weary of some of the shady recruiters popping up in the Facebook groups. Most of them just want an easy commission. It's best to look at each school individually and see what's right for you. 
This is why I create job lists on eslwild.org
You can browse through the site and find loads of lists with different online companies hiring English teachers for online teaching from home. There are job listings for natives and non-natives and they include basic details as well as pay rates. Many of the Chinese companies have closed so you should always be cautious when looking into a Chinese school during this time. 
Online teaching jobs from home!
For the 2022 English Teaching Job List, click Here
Advice for new online teachers
A few things you should have before starting
A TEFL to increase your chances of getting hired
Highspeed internet
A university degree is strongly recommended but not required by all companies
Lesson plan materials (although some are provided by the companies)
If you are having trouble creating lesson plans or if you need extra materials, don't worry. Lesson plans, worksheets, games, grammar lessons, songs, activities, and everything can be found here.
Free resources for online teachers 
Online Teaching Jobs From Home
What you need to know
Sparrows English is an online platform that allows you to teach English from home. This company is based in Penang, Malaysia. Interactive online classes are provided to students ages 3-12. They have an interesting approach on this platform. All resources used for teaching will be National Geographic materials. They accept teachers from all over the world. I did not see any mention of what the pay per hour is on the website though. 
It seems all inquiries and CVs must be sent to hello@sparrowsenglish.com
What you need to know
eTeacher provides online teaching jobs from home for teachers across the globe. They accept native and non native speakers. The pay is decent and starts at $18 per hour. You will need a degree and a TEFL in order to get hired. This company is highly selective when they hire. It's required that you have at least 2 years teaching experience. They also expect you to teach a minimum of 15 hours per week. Students will range from children to adults and all classes will be 1 on 1. 
Littera Education (Americans)
What you need to know
At this company, only Americans can apply. They have numerous tutoring positions that are open regularly. Previous tutoring experience is required. The company also prefers applicant to have a degree however, it's possible to get the job without one if you have a lot of experience. Also, if you are currently enrolled as a University student, they will consider you. Pay is $15 per hour. 
What you need to know
This is another company hiring tutors for all sorts of subjects. A university degree is required, and the pay is $15 per hour. They hire tutors for all sorts of different subjects, but you can choose to only tutor English. They do not mention if they hire non natives on their site but they also don't say native speakers only. You can comment below if you find the answer to this one. 
What you need to know
You can teach online with protostar. They are constantly hiring new teachers. However, you must be a native English speaker to apply for this company. They also require a BA degree as well as a TEFL. You will need a minimum of one-yar in-class teaching experience. Online teaching experience is preferred but not required. The base pay is around $16 per hour. You can earn up to $22 per hour with bonuses. 
What you need to know
This is a well-established company that hires native speakers. This includes native speakers from South Africa. The ages of the students can range from children to adults. They are also incredibly flexible with scheduling. You can work early hours into nighttime hours. You must have a degree and a TEFL. Pay ranges from $15-$28 per hour. All classes are 1 on 1. 
What you need to know
With iPrep Tutor you can set up your own tutor room. Students can schedule live paid video calls with you. This company doesn't send you students, so you must hustle a bit yourself on the page. If you have an appealing setup, you can make easy money just by having video calls. You make your own price, but the platform takes 15% commission. 
What you need to know
This learning platform was started in 2009 and is based in Japan. They WELCOME English & Japanese learners from all around the world. The students ages will range from child to adult. They have 9,000 lessons conducted every month! No degree is required, and they hire natives and non natives. The pay can range between $3-$10 per hour. You will need a TEFL. All classes will be 1 on 1. 
TO APPLY YOU MUST send a 2-minute video Self-introduction, 3 Photos & Resume to eigoru.office@gmail.com
What you need to know
At Kudo English, they hire native and non native speakers. They don't specify if you are required to have a degree or TEFL but on the application it asks if you have them. Students can range from children to adults. They also have business English classes for business companies. They do not specify what the pay is on their page. 
What you need to know
To apply for Ringle, you must hold a degree from the US or the UK. You must have fluent English skills and an ability to facilitate discussions, hold conversations, and be attentive towards speech. Most of the students will be adults and classes will be 1 on 1. The pay ranged between $15-$21 per hour. 
What you need to know
This company accepts teachers from all around the world. It's easy to apply and allows you to teach a variety of topics. You can make money teaching live classes. However, they also give you the opportunity to make money by hosting live webinars and creating online courses. They do not mention how much they pay anywhere on their page. I added this because I had another teacher write me saying he worked for this company and highly recommended it. 
What you need to know
This company is based in Japan and has a pretty cool concept. "Adventures" are zoom classes but completely different from traditional teaching. Instead of lessons, you interact with the kids without teaching, so they acquire English naturally. Adventures are based on games, your favorite sport, art, magic, lego or anything adventurous that you like to do. They are making an effort in making classes more exciting for young learners by allowing them to have fun with people all over the world. Pay depends on how many attendees join but with a guaranteed amount per adventure too. This works out to pay around $10-20 per 10-minute adventure.
Thanks for coming back to eslwild.org! Hopefully this list helped you find a few online platforms that you didn't know before. Please like and subscribe if this list has helped you. We are constantly updating the site with more jobs and materials for our fellow online teachers! 🙂
Here is a complete guide to teaching English online
Online Teaching Jobs From Home