---
Online English Tutor Jobs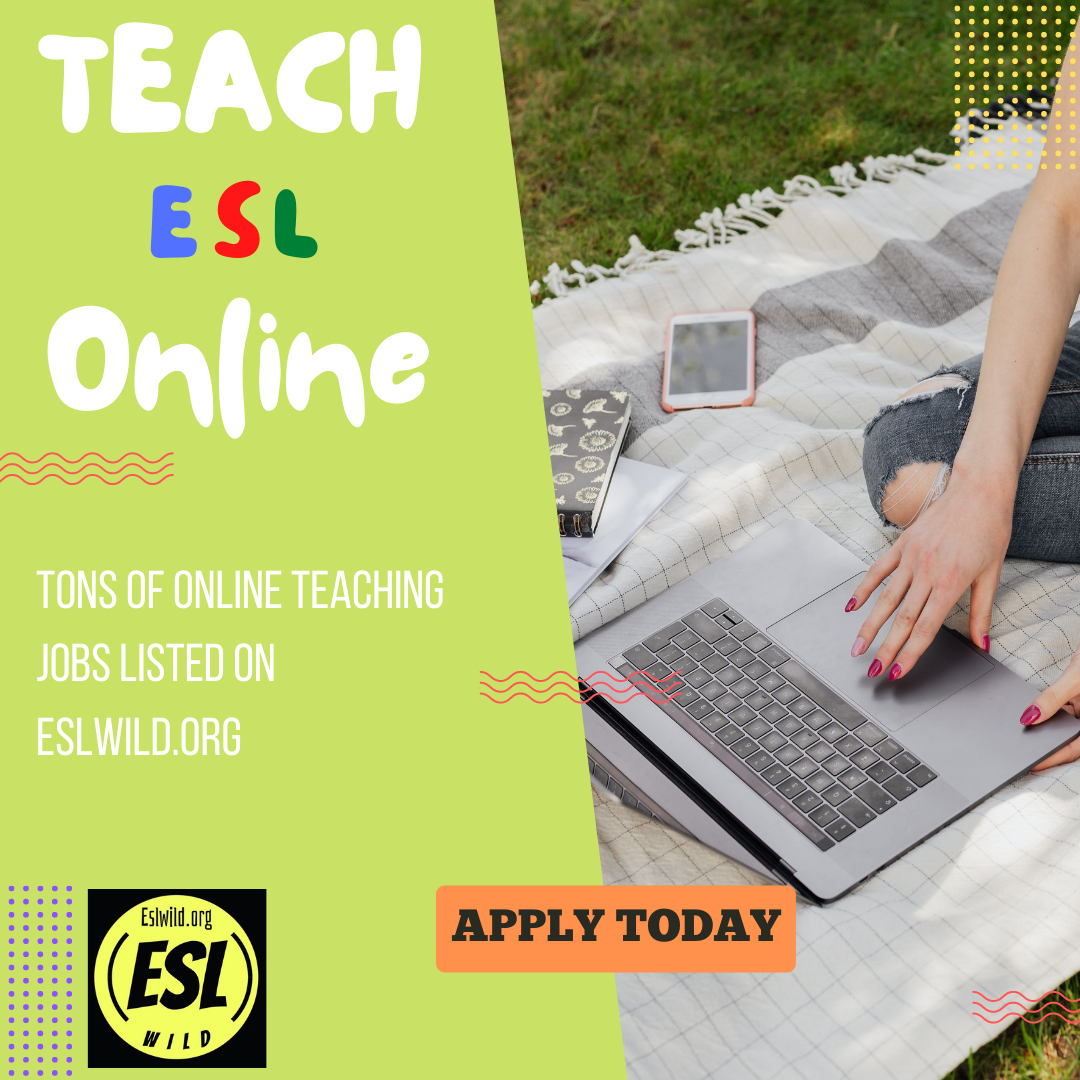 ESL Wild is back with another sexy list of online English tutor jobs for all the thirsty teachers out there. Time to peruse some of the sweet ESL magic coming at you. Some of the companies have decent pay and some make you wonder if you are doomed to live in your mother's basement for the rest of your life. Nonetheless, check out the list and see if there is a match for you. You can start by applying today for an online tutor job.
Each time I collect ten or more companies, I'll update a new list of online tutor jobs to ESLwild.org
The 2022 online teaching JOB LIST HERE
Making ESL Wild the best website for online teachers
I'm constantly updating and compiling every new/existing online teaching opportunity for all the teachers out there. I'm also compiling all the FREE resources and tricks I use for my online classes. Hopefully, this makes your job and job hunt easier. Please feel free to reach out and communicate here. There are lots of opportunities out there for natives and non natives. We can always help each other. 
So keep coming back to ESL Wild for more jobs, advice, resources, and good vibes. 
Online ESL jobs
Natives and Non Natives 
Classo is a Korean company that offers classes in a bunch of different languages. You can teach English, Chinese, French, German, Spanish, and Italian. A TEFL is not required to work here. It is stated that they prefer native speakers but will accept non natives with fluent language skills and teaching experience. 
Teachers use their own materials and will have a profile that's supposed to be enticing for your students. The profile can also help attract new students if it's appealing enough. The payments will be on the 10th of every month. They pay $19 per hour. 
APPLY (To apply send your resume and intro video to classo@rwpt.co.kr )
(Send resume, intro video)
Natives and Non Natives
Ecommunication is an online learning platform based in Japan. They accept teachers from all over the world. Students will pick the teachers they want, and teachers will make their own schedules. You need a minimum of two years of teaching experience. A TEFL is required. They pay $16 to $20 per hour. Payments will be sent via bank transfer or PayPal. 
Natives and Non Natives
(Many complaints about this company from teachers)This is a company that caters to Chinese students. I expected them to go down with the rest of the Chinese market, but they seem to be staying afloat. This could be because one of their headquarters is based in New York. They seem to be still hiring and providing classes as of now. 
Lessons will be 1 on 1. Teachers need a degree and a TEFL. Teaching experience is also highly preferred. They pay $15-$20 per hour. I believe they pay lower for non-native speakers, unfortunately.
Natives and Non Natives
The Blooming Kid is a company that teaches English to Ukrainian students from 4 to 16 years old. If you can't read Russian, open the website with Google Chrome. It can automatically translate webpages for you. 
They prefer teachers to have an American accent. You can be a non native but when you apply, just put on your best Brad Pitt impression and give it your best. Classes are 30 minutes and you'll make between $7-$10 per hour. 
Apply  (To apply send your application to info@thebloomingkid.com)
Natives Only
This is a Korean company looking for new Native English teachers. They have open schedules around the clock. You must have a degree (in any field). A TEFL is not required but it is preferred. The pay is $15 per hour. You will have 1 hour of online training before beginning. 
APPLY (Send your resume to wild2013@naver.com )
Native (Sometimes Non Natives)
Hi Tutor is a company based in Taiwan. They hire teachers to go to Taiwan and teach face to face and also online. They don't mention pay anywhere on the page. However, most Taiwanese companies typically pay between $10-$12 per hour. You will need at least 1 years teaching experience. 
Apply (Send email to hitutor-phhr@edisonedutech.com )
Subject line of email MUST be [SUBIC OFFICE-BASED ESL TUTOR (NAME)]
Include CV and recent ID picture
Natives and Non Natives
Max Talk is hiring teachers to help adult students from China. This is a relatively new website who has been hiring a lot lately but has no official website. They have Facebook and Instagram. 
They are searching for Home bases ESL teachers. Must have a degree and they prefer a TEFL but it's not always required. You must be at least 23 years old and have 1-year of online teaching experience. They have NO mention of the hourly rate of pay. 
APPLY (Send CV and intro video to maxtalkph@gmail.com )
Natives and Non Natives
Etalk is another online teaching company. Most student will be in Ukraine or other parts of Eastern Europe. They say that the pay is up to $10 per hour. This means that they probably like to offer considerably less to new teachers. 
Classes can be done on Zoom or the Etalk platform. All classes will be 1 on 1. 50 minutes for adults, 25 minutes for children. 
Natives Only
This seems to be one of the easiest teaching jobs on the market. You will just be talking with students. They encourage the teachers to talk at least 80% of the class. All classes will be on Skype. You do not need a TEFL or a Degree to work here. However, that pay will match the low requirements. The pay is $10 per hour. You will be paid once a month via PayPal. 
Natives Only (No TEFL or Degree required)
Etalking is a Taiwanese company. They cater mostly to adult students who simply want to learn more English for business or travel. You must be a native speaker but you don't need any official degrees to get in the door. The starting pay is $12-$15 per hour. Classes are usually around 45 minutes but you'll also need to write a report after each class. 
Apply (inquire at their main email service@etalkingonline.com)
Natives (Sometimes Non Natives)
This company provides online lessons to students across Southeast Asia. Students typically ranger between 5-12 years old. They don't mention the Pay per hour on the page. However, I saw on Glassdoor that they had a 4.4 out of 5-star review for working teachers. So, it may be worth looking into. You will need a TEFL to be accepted. 
Everything else you need to know about becoming an online English tutor.
Online English Tutor Jobs