---
Online ESL Jobs for Non-Native Speakers
ESLwild.org is back again to give you another list of job opportunities for all of you non-native English speakers that want to teach English online. Some of the companies have low pay but some are decent. Browse through them and if you find something that you can vibe with, go apply!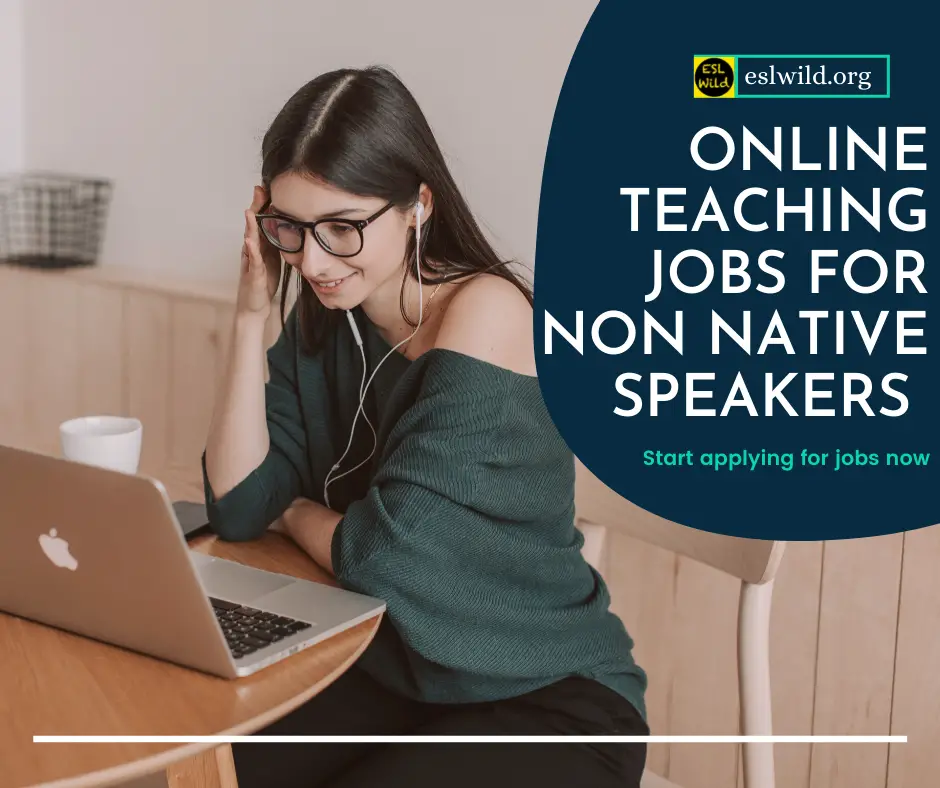 I search for ESL job listings every day. When I find at least ten, I'll construct a list and make it available for everybody. I also collect sources and material to help fellow online teachers. It would mean a lot if you can subscribe so I can keep this up. I want to continue to bring more jobs and resources for you all on a weekly basis. 
You can also read all of the wild travel stories from teachers who are living the dream and making crazy memories while teaching English abroad. You can also submit your crazy travel story if you have experienced something wild while you were traveling. We'd love to hear from you!
Also, if you need free teaching materials such as lesson plans, activities, worksheets, songs, games, etc.… You can find them all in a comprehensive list here. 
Thanks, everybody! Now we can get into our sweet, sweet list of Online ESL companies that you can teach for online. I didn't include any Chinese companies. We all know that the Chinese English market is going to shit faster than a fat man eating spicy Thai food. So, buckle up and check out what's popping up in the world of Online English teaching. 
More ESL Jobs for non-native English speakers
This is a company that is based in Vietnam. All classes conducted with this platform are 1 on 1. After reading some reviews, I have concluded that it's not a great company but good for teachers who are just starting out. Classes are typically taught via Skype, and they pay somewhere between $9-$12 per hour. Also, teachers are required to provide all of the teaching materials.
Don't worry, you can find all of your resources for teaching online here. It's free. 
APPLY HERE to work for Antoree
Right here we have a company based in Germany. This is a fairly decent company would many opportunities. You can teach English, French, Italian, German, or Spanish. Natives and non-natives can apply but you must have a teaching certificate. You will mostly teach business professionals in groups. The pay is between $15-$25 per hour. They also expect you to have at least two years of teaching experience. 
APPLY HERE to work for Speexx
This company is based in the USA. However, they do cater to Chinese students so I'm not sure if they will stay alive. As of now, they are still hiring on the website is fully operational. They do class in small groups or 1 on 1 and are usually only 25 minutes long. The pay is between $10-$20 per hour. All teachers must have a degree, but a TEFL certificate is not required. However, it is preferred along with teaching experience. It is asked that you devote at least 2 hours per day and 4 days per week if you work for this company. 
APPLY HERE to work for COREnglish
Here is a company that does not discriminate against any teachers. They accept non-native English teachers from any country in the world. However, you must have a degree or a TEFL certificate. Everything is provided to you by the company. This will include lesson plans and materials for each class. The pay is $8 for a forty-five-minute class. 
APPLY HERE to work for NESKA
This one isn't a viable choice for a lot of people but maybe it can work for a few of you. Let me start by saying that they require you to live in Japan but you can be from any country as a teacher. So maybe you want to move to Japan and start teaching online? Maybe you are already there? If not, you can skip this one. 
This company provides English lessons online for thousands of students around Japan. Most of the classes will simply be audio-only. Students can request a video lesson though. They pay 350 Yen per 10 minutes via PayPal.
APPLY HERE to work for One Coin English
With BloomingKids, you will be teaching Ukrainian children. The ages range between 4 to 16. They do prefer English teachers to be able to speak Russian, but it is not required. If you can't read Russian, I suggest you open the page with google chrome because it allows the auto-translate function.
They state that they prefer American accents, and they pay $7-$10 per hour. However, classes are typically only 30 minutes. 
You can send your application to info@thebloomingkid.com
Teachers from all over the world can apply to work here. Most of the students seemed to be based in Turkey but they also have students from all across the middle east and Asia. You will need both a degree and a TEFL to begin working for this company. You also need one year of teaching experience. The pay is between $8-$10 per hour.  
APPLY HERE to work for ISpeakbetter
This online teaching company is rather small. They are based in Moscow, Russia and they teach English and German via Skype. This is another job best suited for teachers who can also speak Russian. They tutor mostly adults and some students preparing for exams. You must have a TEFL and at least 5 years of experience to work here. The pay is $13 per hour.
APPLY HERE to work for Enline
Brent Oxphone English
Otherwise known as Brent Phone, this company is Korean based that teaches a few languages including English, Chinese, and Japanese. If you work for this company, you will be teaching mostly Korean government employees. The pay is around $10 an hour. 
I found this email to which you can send your CV to. brentjameshahn@gmail.com
Also, you can try to APPLY HERE to work for Brent Oxphone English.
This is another company that welcomes online English teachers from all across the globe. Lingo Turtle is a company based in Belgrade Serbia. All classes will be 1 on 1 and approximately 25 minutes. They don't have a lot of requirements seeing as you don't need a degree and only a C1 level of English. However, the pay matches the low requirements. Pay will be $7 per hour and $9 per hour on weekends. 
APPLY HERE to work for Lingo Turtle
This is an online learning platform operating in dozens of countries around the world. However, they are based in the USA. You can teach English or Spanish on this platform with students between the ages of 4-12. All Right prefers its teachers to be bilingual and if you're multi-lingual, you will fit right in. The pay staggers at a solid $10 per hour for non-native speaking teachers. For this specific platform, they do ask that you have a degree and some experience teaching ESL, but they do not require a TEFL. 
APPLY HERE to work for ALL Right
This is a Colombian company that requires you to set up a profile and try to bring in adult students through the platform. They do not require a degree or a TEFL certificate. They pay $10 per hour.
APPLY HERE to work for Profy
If this list helped you, please subscribe because I post lists for ESL jobs regularly. Also, I would love to hear your experience down in the comments if you have worked for any of these companies personally. 
For the 2022 English Teaching Job list, click HERE
If you want to teach abroad as a non native speaker, check out this video for tips!
Online ESL Jobs for Non-Native Speakers