---
Online ESL Companies Hiring Non-Native English Teachers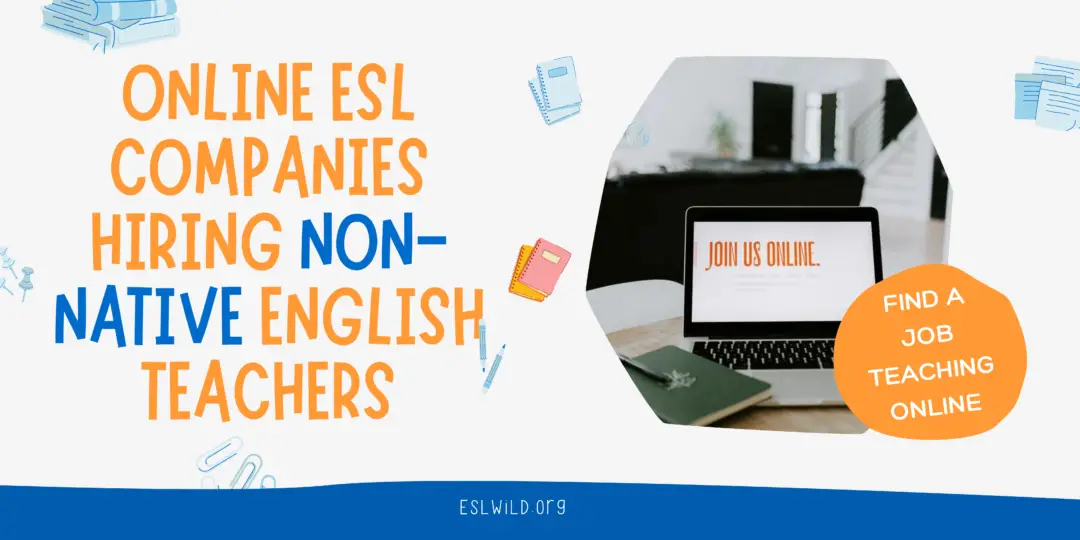 This list will include 10 online ESL companies that hire non-native English teachers. I know many of you have faced incredulous discrimination but when there is a will, there is a way. The jobs will keep coming and more and more companies keep opening after the Chinese restrictions on English teachers. This is building a new wave of platforms that are more accepting and more widespread across the globe.
Becoming An Online English Teacher
Maybe you're new here or maybe you are a veteran in the world of online teaching. Either way, more and more opportunities are coming in by the day. The first thing you want to do is make sure that you have all the necessities for teaching English online. 
Things You Will Need To Teach Online
Good Wi-Fi
A good headset
Lesson plans
Great communication skills
A TEFL certificate
Engaging lessons
If you haven't received a TEFL certificate I would highly recommend taking the time and completing the course here. They are incredible with job placement and can also help you find teaching jobs across the world if you want to start a new journey. 
Also, for a comprehensive list of websites to help you with all your teaching needs, check out this list here. It's filled with lesson plans, videos, songs, worksheets, and everything you could ever need for online teaching. 
Online Teaching Jobs for Non-Native English Teachers
Teaching English Online
Oteacher is an Iranian based online platform that allows online teachers to host classes for a variety of different languages. Of course, English is one of them. Students can look at the teacher's schedules and choose when they want to have class. 
Non-native speakers are welcome to teach English online here. A TEFL and degree are preferred but not required. However, your pay will be based on your credentials. I would suggest opening the webpage with google chrome because you can auto-translate the page. It will helpful if you can't read Arabic.  
Teaching English Online
At Kukuspeak, you can find a favorable schedule if you are living in Asia because of the time zone. This company accepts non-native teachers and will pay $12-$15 per hour plus incentives and bonuses. They are looking for teachers that have a degree and a TEFL certificate. Also, it is asked that you have at least one year of teaching experience. You can email your resume to: hr@kukuspeak.com.
Teaching English Online
This is another great opportunity for non-native English teachers. 321-English is a South African based company that provides English courses to students throughout Asia. They do ask that all applying teachers please have teaching experience and a TEFL certificate. It pays $12 per hour. 
Teaching English Online
Ginseng English is based in Boston. They hire the best candidates so non-native speakers are welcome with open arms. Their classes are 45 minutes long and the students are university students and professionals from different countries in this part of Asia who want to learn conversational English. The pay rate is $10-$15 per hour.
Tutor Supply
Teaching English Online
At Tutor Supply you will be focusing on student in Asia that are learning English. They hire native and non-native teachers. Having a TEFL certification can be enough to get the job. A degree will certainly help but isn't required. They also ask that you have a clear enhanced DBS which is a background check performed in the UK. here is a bonus structure of £5 for each additional student in the same class. Pay can range from $25-$35.
Teaching English Online
They are currently hiring native and non-native English-speaking teachers at Future First. You must speak at a native level. Bachelor's degree (in any discipline) is required, they want teachers who have one year of experience and/or a TEFL certificate. Non-natives teachers must have passed the IELTS or TOEFL exam. The recruitment process is a 15-minute interview and a 30-minute mock class. They offer a fixed schedule with a 100% booking rate so you are guaranteed to be paid for that time. The pay for non-natives per hour could be as much as $12 USD.
Teaching English Online
This company is based in Taiwan. They offer individual and group classes. Unfortunately, they utilize a rating system, and a teacher can be penalized for having a bad rating. You must teach 15 sessions of 45 minutes or more per week. The pay is dependent on your country. It can range between $5-$9.
Teaching English online
I want to start by saying, they are mostly looking for teachers from the Philippines. Also, I should add that the pay is fairly low. Teachers must be between 20 and 45 years old and have a bachelor's degree and an International Teaching Certificate (TESOL, TEFL or CELTA).
Teaching English Online
This company has a rather interesting approach to the online teaching market. It pays you for replying to student messages, editing conversations, and doing voice recordings. They also pay you 340 YEN per 25-minute class for Skype lessons, 50 YEN for recording, and 10 YEN for answering messages and editing conversations.
Teaching English Online
This is a Hong Kong-based company so it might actually survive the Chinese shutdowns. Non-natives are accepted here but they must have an idiomatic level of English. Previous teachers have stated they received pay around $14 per hour.
I would love to hear your feedback on these companies if you have personally worked for any of them. Please leave your story down in the comments to help the other teachers who might be applying. 
For the 2022 English Teaching JOB LIST, click HERE
If you're interested in teaching abroad as a non native speaker, check out this video.
Online ESL Companies Hiring Non-Native English Teachers